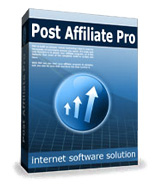 Photo source: Quality Unit
Post Affiliate Pro 4 is an outstanding affiliate application. Those who already worked with it would tell you that it is a huge application with so many plugins, features and functions. One of them is a design section.
The same as many nowadays applications Post Affiliate Pro 4 has a user interface for design changes. Not only logo changing but also direct access to application templates so you could modify existing sections or create new ones. It helps you e.g. to hide some parts of sections you do not want to display or some tables in reports that you can modify. You can extend affiliate sections with embedded videos or with some resources for download. You have also an access to Post Affiliate Pro style sheets (CSS) so you can completely redesign it to what you need.
I've been working with Post Affiliate Pro 4 since its first release and I can tell you that I have already seen a lot of beautiful design changes. It was not so easy from beginning because the design section was not developed from Post Affiliate Pro 4 first release, but now it is really easy with it.
Of course, not everyone is a designer, not all of you understand HTML and CSS code and because of that you have to find somebody who do understand it. But another problem comes out - those you find can do a design work for you but they probably do not know Post Affiliate Pro 4 - and here comes my offer.
As I have been working with Post Affiliate Pro 4 for many years and I am also a designer, I can help you to redesign your Post Affiliate Pro 4 the way you need and like. In few months I am also going to create few themes for Post Affiliate Pro 4 that you could use as well. If you are already interested, just let me know - contact me and I can start working on your theme as soon as possible.
Seen 2927 times.
Categories: [Post Affiliate Pro 4]